Landscaping Rocks in Utah
Red Dome Mine has top quality lava rocks that can be used as landscaping rocks in Utah.
Your Source for Landscaping Rocks in Utah
When it comes to getting your landscaping rocks in Utah, go straight to the source. The source for all of your landscaping rock needs is located in Fillmore, Utah at the Red Dome Lava Mine. We have over 100 Million tons of lava rock.
Red Dome has three colors of lava rock. Red lava rock, which can vary from dark red to a lighter burnt orange. Black lava rock which can vary from midnight black to a grey green. And Chocolate lava rock which is a mix of every color as we mine across the color veins.
We specialize in light weight fill. Our lava rock is one of the lightest aggregates available. At 2.01 Yards to the ton, the value is twice that of other aggregates of 1 yard to the ton.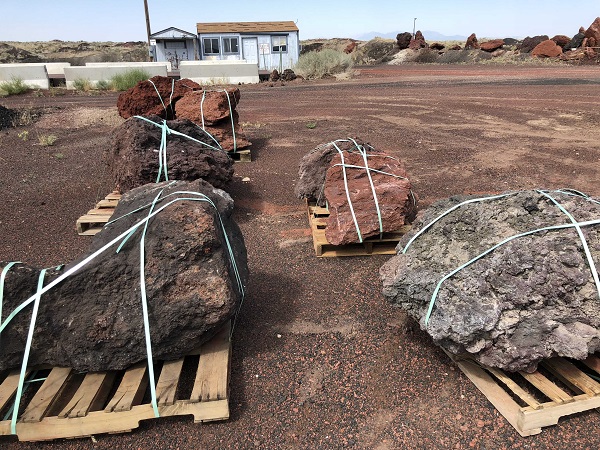 Different Landscaping Rocks in Utah
With landscaping rocks, there are many options based on the size and color you need. This can go from ground cover, soil preparation, to large boulders. We provide all the different landscaping rocks in Utah and can ship to other states as well. 
Do you get tired of dirt and mulch that can blow away in the wind and fades over time? Our lava rock will stay in place, even in a heavy storm and won't fade over time. This is a great option that will save you time and money.
Basalt, created through the cooling and solidfication of magma and lava, can create greater balance in the soil providing nutrients for optimal plant health and vitality.
Lava Boulders
Boulders are one of our specialty items. Whether you are looking for landscaping boulders for your yard or boulders for large aquariums we've got every shape, size and color you could ever want. With sizes ranging from 6 inches to 9 feet in stock.
Steps to Using Lava as Landscaping Rocks in Utah
The website, "doityourself.com" has an article all about DIY Lava Rock Landscaping (https://www.doityourself.com/stry/diy-lava-rock-landscaping). In this article it goes through the steps in the best ways of using lava rock. Although there are many different rocks you can use, lava is quickly becoming the rock of choice for landscaping rocks in Utah and other states. 
Here is an outline of the steps they suggest (go to the link above to see the full article):
1. Deciding On Your Design – Your design is only limited by your creativity. You can look online at images of yards that others have done to get ideas in your design. 
2. Preparing Your Garden – You need to remove all the weeds and grass. Lava rocks can help deter weed growth. Keep in mind your design as you mark areas for larger rocks and plants.
3. Inserting Your Lava Rocks – Now you're ready for your landscaping rocks. You may want to dig a little hole for the larger rocks to sit in. Because lava rocks are light weight, you'll be surprised at how large of rocks you can move on your own.
4. Creating Your Borders – Now that your larger rocks are in place, you can insert your smaller lava rock ground cover and plants. 
We are here to meet your decorative landscaping and construction needs.